29,00 € excl. VAT
WordPress Form Bot Spam Block Plugin is suitable to protect various forms on your website. It has been especially tested for the popular Contact Form 7 and WPForms forms. However, it can also protect your WordPress comment form. The plugin license purchase includes the license key for 1 website for the duration of 1 year with 12 months support and updates.
Description
The dxw3 Form Bot Spam Block WordPress plugin is designed to stop spam bots from sending spam via the forms of your website. Furthermore, the plugin works automatically and is tested at least with the popular Contact Form 7 and WPForms. In addition, it protects your WordPress comment form. Because of the method used for protecting your form, the bot will not find your form. Therefore it is not possible to send spam by using the form.
Advantages:
Very simple to set up, practically no settings required. You only need to activate the plugin and insert the license key.
New and effective method to protect your form.
The plugin is lightweight and does not slow down your site. It does not add unnecessary code load to your site.
Customers do not need to fill in anything extra: no CAPTCHA or math puzzles to solve. The protection is fully automatic.
The same plugin protects several kinds of forms without additional settings.
You only need to
1) download the zip file from the shop and upload it from the WordPress admin plugins page
2) activate it
3) key in the license code that you received in your confirmation email. Insert the key in WordPress admin: Settings – dxw3 Spam Block
And you are all set!
For detailed instructions go to Plugin Installation Manually from a zip File.
The only setting you need is the license key that you can insert in WordPress admin. It is as simple as that.
Easily verify that your form is protected. Check the right bottom corner of your form for the dxw3-shield logo. When you see the logo, the form is protected.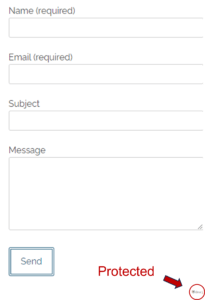 Test the protection level of your site's current form by using the testing tool on this site. The free and popular spam bot testing tool you can find here.